SummerRats 2008
That's right Rat Patrolians, the Summernats are in town so we're crashing the party with a Rat Ride down the bogun drag strip of Lonsdale St.
The night will start with a BBQ at the Rat's Nest around 6 pm. If in doubt, bring meat and beer. We will depart the Rat's Nest at 9 pm sharp so as to gain maximum exposure.
- "Chuck a mono!!!" Bloody Mary
Just the other day I was riding along and someone yelled out "SummerRats!!", which is way better than "Chuck a mono!".
This ride was to be the first real exposure Johnny Payphone would have to true Australian bogun culture at it's finest — even he would be surprised. Summernats is an annual event held in Canberra to annoy the general public, the cops and even the odd bogun. Afterall, all Australians have a little bit of bogun in them. Summernats is a festival of the car and as such, an enimy of the Rat Patrol. Rat Patrol's 2007 SummerRats performance was something to behold, but this time we had a special guest to impress.
2008 saw a disappointing crowd of only a thousand or two thousand bystanders at the annual Lonsdale St procession, but we were still able to take up the whole road with our numbers and dazzle the crowd with our stark intellect and sharp wit.
The most memorable comment Johnny had on Lonsdale St was "Why don't you c*nts go catch AIDS!", which we all thought was quite spectacular, and made the whole Rat Ride worthwhile. Australian gold. This was real culture shock.
Next stop: a service station stop is required. The man behind the security counter uses the loudspeaker (probably for the first time in his career): "I think you guys are great. Much better than all those other arseholes", and then as a surge of rum-drunk boguns started to descend upon the SummerRats and the mood turned kinda ugly (the rum-drunk boguns were over-excited), another announcement was made: "Please, you guys are great and I really like your bikes, but you MUST LEAVE NOW. Please leave now, please leave now!". The scene was HILARIOUS!! Of course we soon had to make a quick exit, as the rum-drinking, bleach-haired, overweight, pink shit-wearing, beer bottle throwing boguns were now totally over-stimulated and wanted to climb up moving tallbikes and tackle moving choppers to the ground — so we left in a blaze of smiles.
Not sure, but I think this is when Nancy got a bit over-excited himself, as he managed to rip his handlebars from the gooseneck — "mechanical!!!!" was the cry, and the Rats stopped with varying degrees of success.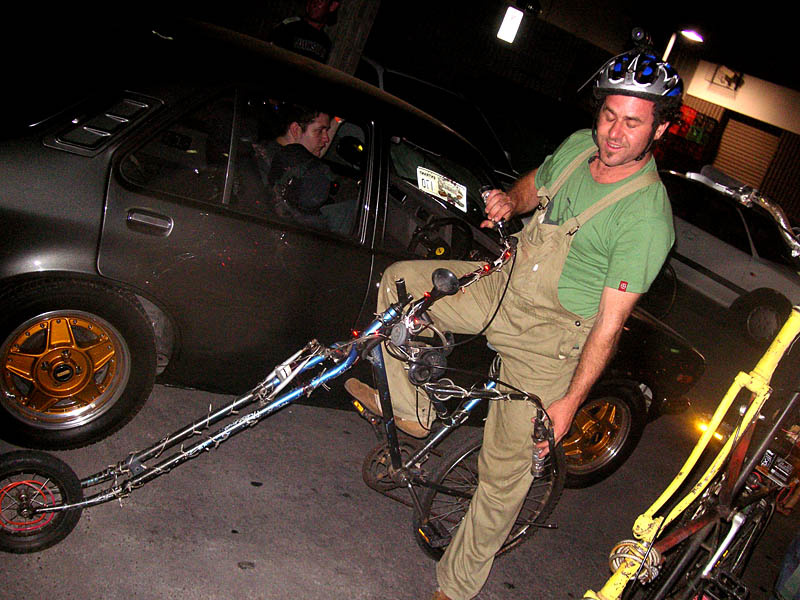 Nancy Porker, impressed by his mechanical and even more impressed by the solution (not shown, but he somehow fixed it and rode on!)
In any case, we were all supposed to re-group back at the meeting point, which kind of happened. Bloody Mary passes out while we wait, at least he didn't spew.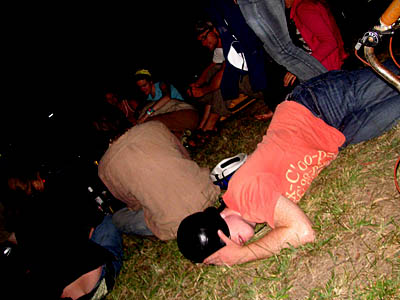 But where was Dr Spl@t?? We waited and waited — it turned out that she had by-passed the agreed meeting point and headed to the next pub... after a rather drunken phone call to Small Boat Alert, we learnt that on her way she had found out what that klunking noise on her tallbike was... a loose front brake calliper. The main reason she knew this for sure was that while riding along, it had fallen completely off the bike and into the front wheel, causing her to go over the hangers and onto the road. Small Boat Alert and Limp Jimmy immediately ride at speed to her last reported location.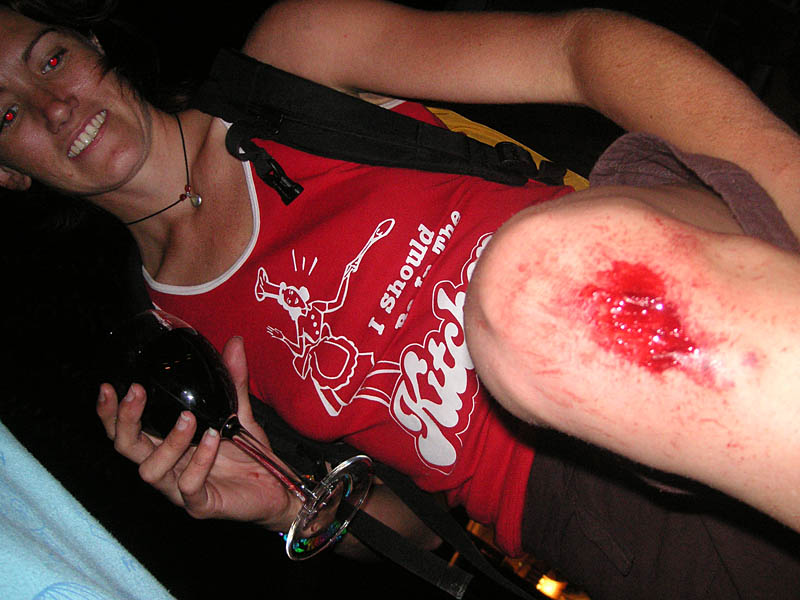 Dr Spl@t displays her tallbike injury proudly. Good thing she was wearing a helmet!
Soon enough, we met Spl@t at the pub and she had already grabbed a glass of wine for medicinal purposes...
Great night, great ride — let's do it again next year!