Rat 24hr 2006: Welcome to the world's biggest 24 hour XC freakbike race
After Rat Patrol Oz's victorious appearance in the 2005 24hr race, the lycra crew prolly figured it was only a one-off, a passing trend, just a couple of crazy guys wearing 'funny' clothes riding... a... bike? Nobody was too sure about what they saw on 4 wheels that day. Indeed, it was the sociable double tallbike, Master Gravity Esquire with Rat Patrollian pilots, who were officially first to finish at the conclusion of the world's biggest cross-country bicycle race. What a scene!
But what to do as an encore??
Well, for a start, we didn't like having to camp with the thousands of competitors who choose to ride shop-bought XC bikes and don the obligatory brand-coloured cycling lycra, nor did we like the idea that we couldn't have bands playing live music all night, a BBQ, welding equipment, a fridge, a private XC track or our own Rat Events. So, we went ferrel and planned for the next year — 2006 would be Rat Patrol Oz's year. They even asked to put our team profile up on their website!!! Little did they know...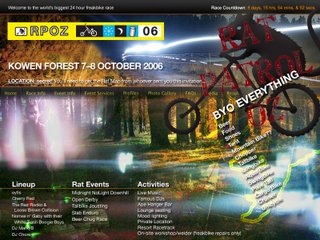 51 weeks later, Nancy Porker and Limp Jimmy 'find' a key to the forest and, with the help of many, begin to set up our own race. A race within a race. A Rat Race: this time we had entered a chopper team and planned our own special event — this would never be repeated again!
Careful planning had gone into choosing a campsite which was just far enough away for people not to be able to hear the 24hr party, which would be cranking the whole weekend. We needed a place with it's own access track, a nice vibe, somewhere with blue-sky light AND sun protection... we finally found that place!
While Pork Chop and I only drove into the site once, many others drove in loads of infrastructure on a daily basis, right underneath the noses of many an anal race organiser. Who knew we were there? Nobody. People saw us heading into the forest but nobody even suspected our dastardly intentions, nor could they have imagined the scale at which it would come to fruition...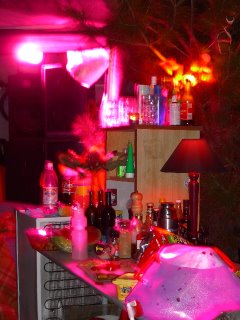 After a week of living like an animal who can weld and knows the value of an ice-cold beer, our venue was set up with massive chopper racks, our own XC track, large stage and performance areas, many couches, a bar, a kitchen, power, extensive mood lighting, our own camping ground — and even a toilet! Of course, we also had a Green Room for the many performers who played for free. "WOW!", that's all people could say, "WOW!!".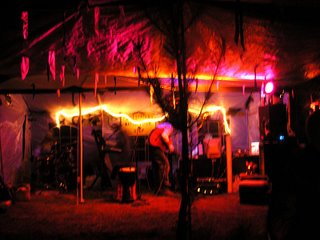 But not many people of the thousands present said that, as we wanted to keep it low-key and private; the only thing that might have destroyed what we had created, could only be the very reason we did it in the first place — people. Those few-of-thousands who were led to our site couldn't believe what they saw. Their mouths hung wide open...
So it was, smiling people invaded the beautiful space we had created, setting up their own tents and using our toilet. These people were not speaking our week-long festy bush dialect, but they would soon pick it up in order to be able to communicate with us; race day had finally arrived!
Team Rat Patrol Oz presented themselves at the start line with all team members present and ready to ride. We heard people saying things like "Ha! Look at those guys, they'll NEVER make it around the 20km XC course!!!". But for once, you could ride Zed's Dead around Race Village and people didn't have to ask what all the crazy springs were for, as they could clearly see what the 8" of silky-smooth front-end wheel travel was doing, even tho the back-end suspension system was incomprehensible... I think we looked 'formidable' and 'serious' once we got to the starting line, victory was ours!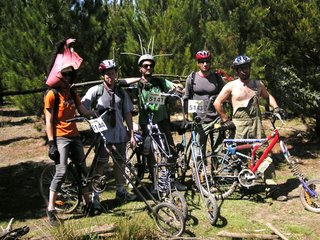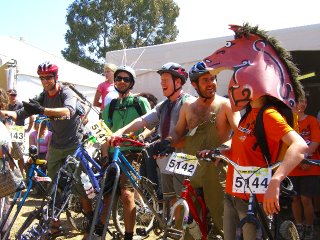 Instead of running the 800m Le Mans start (in 2005 we gingerly 'jogged' only 200m), we just waited on our choppers — no, we weren't racing in relay like the other teams, we thought it best for the whole team to ride at the same time. Dr Splat wore the much-adorned Horse Hat of Honour, Fr Knob was pimping his Holy Water, Nancy dressed up in pilgrim attire for the occasion, Bloody Mary wore a neck tie and carried a 20 litre container of water on his back, and I looked cool AND tough.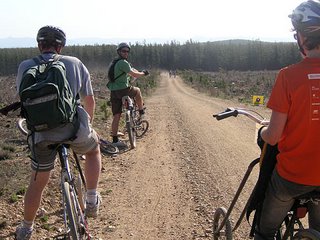 We set off, and after an initial mechanical at the 300m mark, we rode strongly to the top of the switchback section where many hundreds watched far below. "Shit!" Fr Knob said. He realised he should have checked the Sproing Bike to see if it's one brake was functional — it wasn't. Nor was Splat's beast... At this point we were struggling to stay ahead of the meat wagon (first aid officers bring up the rear), so Knob went back to camp and left the building in his own style without telling his team mates, while Splat decided to adjust her brakes some and predominantly go with the old foot-braking technique to impress the large crowd on the most challenging and dangerous downhill section of the track. At the bottom, we sat down, smoked and waited for the omni-present Father Knob
When all those people witnessed our downhill chopper-handling skills, they realised we weren't just a bunch of idiots riding funny bikes, moreover, we were idiots who could ride much better than most of the other competitors, AND we rode funny bikes. Before that, we were some clown act, afterwards people realised we were serious clowns.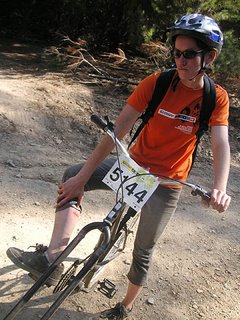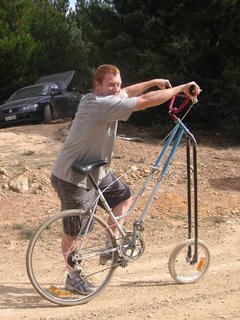 We had a few injuries of body and bike, but made it though in style!!
Eventually we arrived back at Basecamp Ludicrous and proceeded to party until the next day. Yep, a one-off event, kick arse we do :)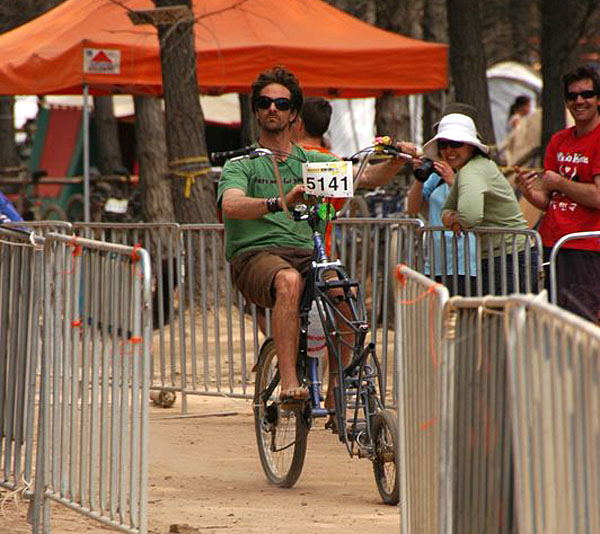 Limp Jimmy, officially crossing the finish line looking rather seedy, wearing no shoes or helmet. I didn't hear anyone objecting...

We did our lap in around 4 hours so, that time divided by 4 team members equalled (by our reckoning) a time of around 1 hour — NOT BAD!!!!! Many people almost crashed from catching glimpses of us sitting by the track in the middle of the forest, smoking cigarettes, laughing and dousing ourselves in water in the hot, dusty conditions :)