Treasure Hunt Ride
[Nancy Porker + pics mostly from FKA (formerly known as) Lisa Tolcher]
A swashbucklin' crew had assembled on the Flying Pigsty's rear deck in anticipation of the first ever RPOz Treasure Hunt ride.
It had been a week since FKA Tom n' Hannah had sprung a double initiation on the Patrol by secretly completing their talls. It was a messy occasion featuring races in Glebe park, falling into bushes, and run-ins with the Constabulary.
FKA Tom n Hannah thought they had outsmarted RPOz, exposing ritual weaknesses when they had not received a name by night's end. Little did they know what lay ahead...!
The call to arms came shortly after by means of homing pigeon to the Rats:
"Ahoy me Sprogs of the high seas!

The clouds are parting and the constellations are revealing themselves, allowing us to plot a course to the frivolities of this Fridee eve!

On sunset we shall develop our sea legs with Nancy's Secret Scurvy Juice at the Flying Pigsty's back deck where we shall also roast provisions, split into two crews, plot, scheme, and generally talk sh!t. COME EARLY if ye wish to eat and get loaded to the gunwales, as the Treasure Hunt will wait for no man, such are the promises of her bounty!

The Treasure Hunt will commence at 7PM with the first clue being revealed to both crews. This shall lead ye to the next clue, and the next, and the next, before our final destination - a Cashews gig / Margaret Helen King album launch. At each clue ye shall find a treasure map which will reveal the location of your crew's doubloons. Your crew cannot up anchor and set sail to the next clue before consuming all ye booty. The first team to the gig will receive the treasure map to the grand bounty!

Does she not sound like a swashbucklin adventure me hearties?!!

As an added incentive, all who attend the first annual Treasure Hunt Ride shall receive a Bilge Rat patch."
Two bottles of Scurvy Juice (a variation on RP Chicago's Unkle Grandpas) got the evening well and truly under way.
Only when the bottles were near empty did the assembled masses realise the first clue had been under their noses for nearly an hour.
It was at this point that FKA Tom n' Hannah learnt they were Captains of two unruly crews for the evening, and that each treasure map led to a clue to not only a bounty full of booze at each stop, but also a portion of their new Rat names.
FKA Hannah assembled a brainy crew who were adept at riddle solving and learned in local geography. They were first to find their second clue, and FKA Hannah's first name – "Busta…" pinned to the underside of a bridge. FKA Tom's crew weren't too far behind and wasted no time in renaming their Capt'n "Cunstable Willy….". What the Cunstable's crew lacked in brains, they made up for in sheer beer drinking brawn. Seeing as though the teams were not able to move onto the next clue until they'd consumed their bounty, the crews were neck and neck when they took off for their second treasure.
At Corroboree Park a random passer-by was stunned with confusion as he watched a swarm of freakbikers noisily descend on a playground, peer under swing sets and slides, pace out steps round street lights and trees before rummaging through bushes to discover a bounty of brews and exclaim "Busta Wonky!" and "Cunst. Willy Shonka". The rats guzzled and pondered the next map.
Sure enough it was Wonky's crew who figured out the next destination could only be the Lone Pine at the Turkish ANZAC memorial. Shonky, in true Shonkster form simply followed closely on their tails.
There was a catch to the final clue. Instead of there being a map for each team, the last destination had only one map to the final, and most substantial bounty of the evening. Whoever reached their first, held the clue to the motherload. But of course, being a pirate ride meant raiding parties and subterfuge were by no means out of the question.
After narrowly missing a semi-trailer, Busta Wonky arrived at the memorial first. Her team seemed more preoccupied with finding their bounty than the final clue, until they realised it's gravity. They untied it from the branch of the Lone Pine only moments before Shonka's crew arrived. It was then that the violence broke out.
Kara distracted Scrujette whilst Shonka went in for the kill, snatching the final map from Wonky. An all in brawl erupted and Shonka was left at the bottom of pile of Rats. Loose Brown, oblivious to the fracas, broke up the brawl with his exclaimation upon finding their stash in some nearby bushes. Must.Drink.Beers.Before.Moving.On!
The final map was ambiguous at best. Rats disappeared in every direction believing they knew where the final stash was laid. We would loose Kara for over an hour at this point.
Sure enough, the brains won out, and Wonky's team were the first to find the motherload after pacing around and around Gorman House…. And till right farken now they assumed they'd won the Hunt... but not so.
The bounty was shared around all the rats, who were now all completely trashed, before returning to the Pigsty for fires, more brews, and tunes.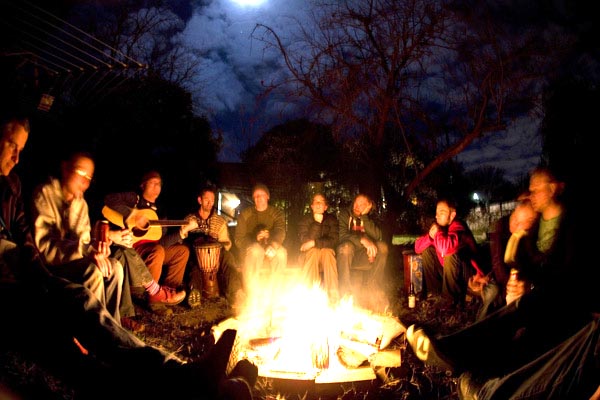 It later became apparent that Busta Wonky and her motley crew, when faced with defeat, resorted to discarding beer to allow them to move onto the next task. Whilst cheating is usually applauded amongst Ratty pirates, beer crimes are waaay beyond acceptable behaviour. For this reason Cunstable Willy Shonka and his crew will forever go down in history as the WINNERS OF THE FIRST EVER RPOz TREASURE HUNT!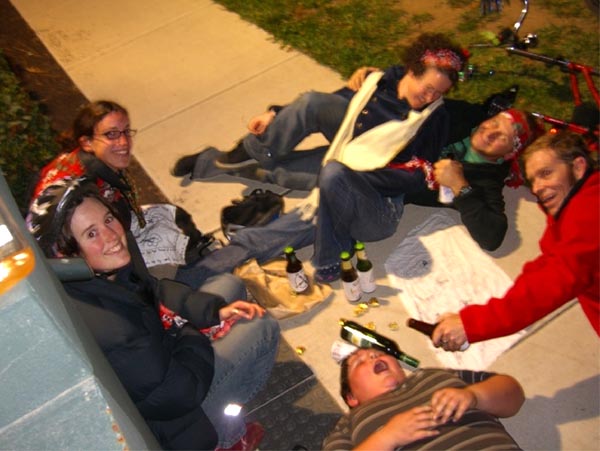 Wonky's team: shame, treasure maps, booty, FARKEN CHEATS!