Before the parade begins, many rats enjoying the street outside the Dive.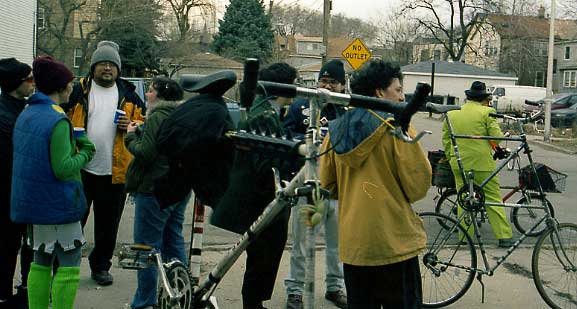 Dan the reporter can't get the Rat Patrol out of his head, even after his story is finished. Is he still conducting interviews?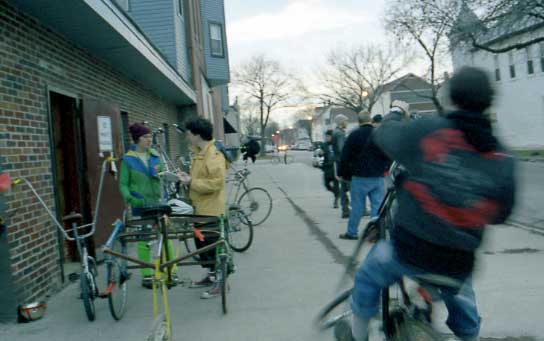 Uncle Grandpa is always welcome at all Rat Patrol functions.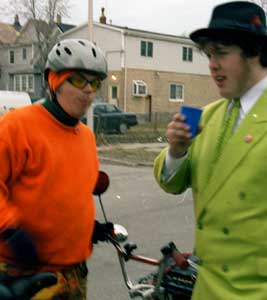 Matt the Rat brings our official parade marshall in his custom-made wheel-chariot and its time to begin the parade!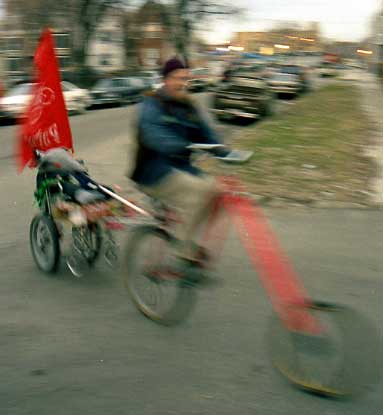 Sarah tries out the Purple Slug after watching Shaunnesy wipe out on it.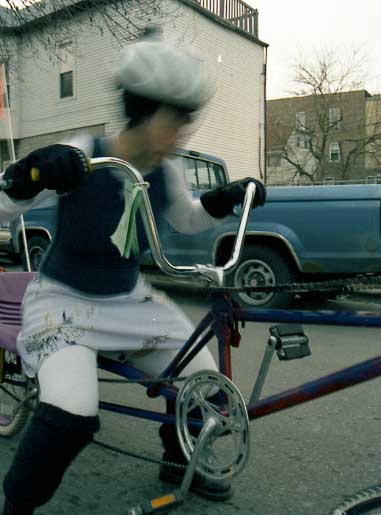 Andrea shows off his new colors, as well as our favorite mascot Snugly Fugly.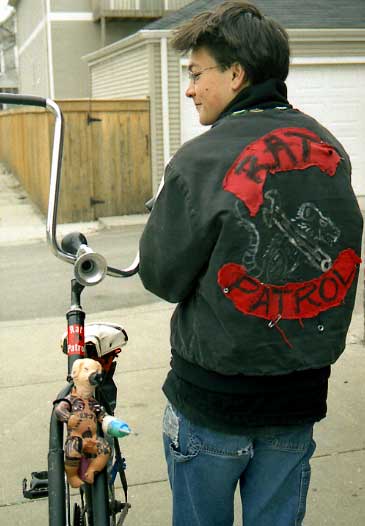 Josh with his extra long rat chopper.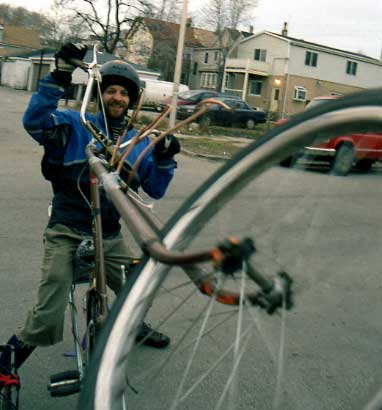 As the light faded we headed out on our parade through the neighborhood.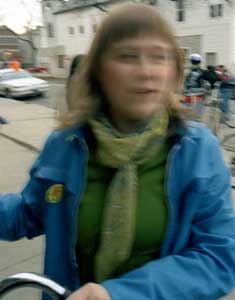 Within 6 blocks Foamy rolled his tricycle and a broken factory weld on Al's superchopper delayed the procession for a while. Some of the Rats on tall bikes headed out for the last of the Tour da Chicago races.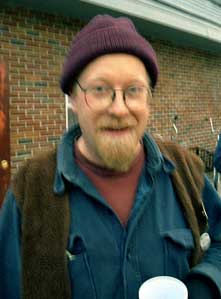 Back in action again, the parade set out with Alex providing happy parade music from his onboard sound system. We cruised slowly across town, following a railroad viaduct and meandering through streets and alleys eastward through the late afternoon twilight.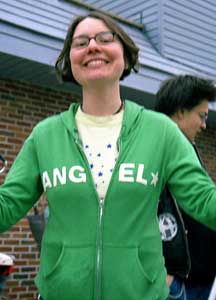 Looping back up Milwaukee Ave, the parade stopped to visit Hans at work, a stop which turned into a hilarious impromptu sidewalk dance party, as passersby joined in and tourists snapped photos.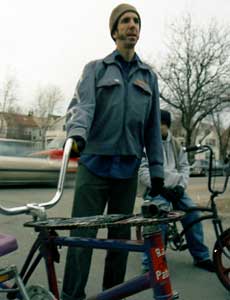 Heading back to the shelter of the Dive, the rats enjoyed a fun-filled evening of drinking, cigar-smoking and chatting. Foamy premiered a number of new darts maneuvers, most of which ended up in the ceiling. Hans danced on the bar to Devo. Nathan & Gordie provoked an arm-wrestling duel which ended in torn britches and a number of people writhing on the floor.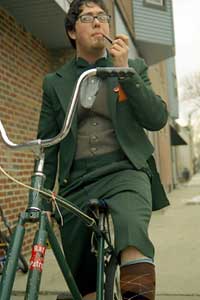 There was a sudden appearance of a trio of nearly nude cyclists from out of the cold. Someone initiated a limbo contest. There were many toasts to St. Ratrick and his blessings upon the coming year. Chopper Bob tended the grill out back while Foamy's tricycle attracted the attentions of male strippers and welders alike driving down the alley.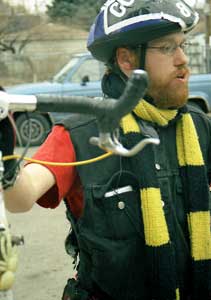 It was a relaxing way to honor St. Ratrick and have fun, too.