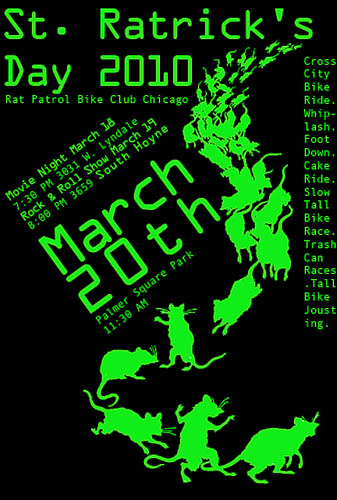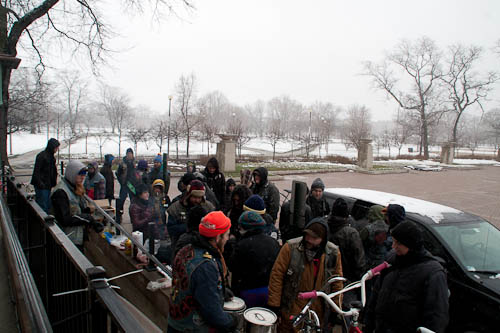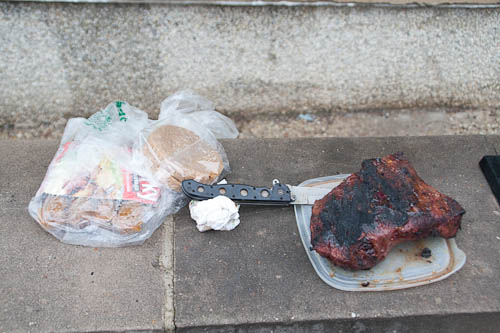 On Friday night we took a ride down to listen to some bands play in Bridgeport. It was a lovely 60 degrees out, whereas the weather for Saturday's festivies weren't so nice: 15 degrees with gusts of wind and snow. Surprisingly, the attendance for the cookout was good, but numbers dropped significantly once the ride pulled out of Humboldt Park.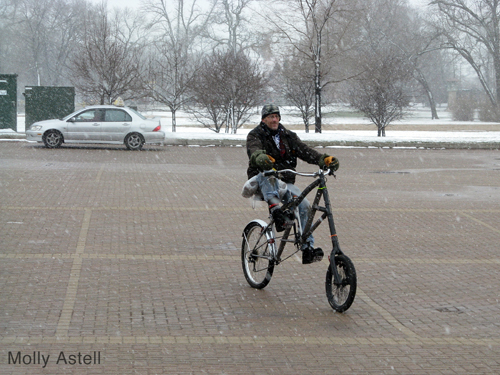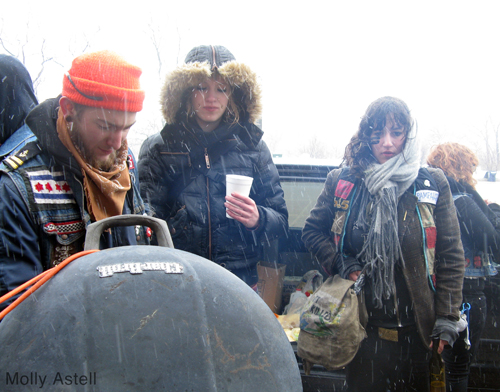 Due to nature, the planned route was quite daunting and many took refuge inside. The prepared and crazy laughed in the face of danger.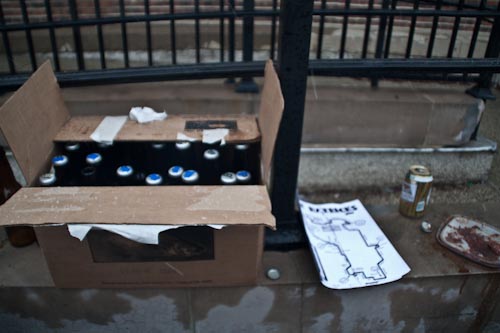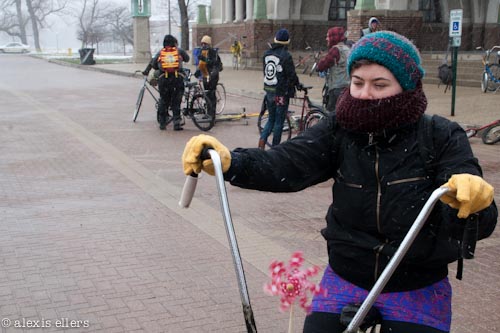 Like all good parties, this one started with a dinosaur piñata full of flour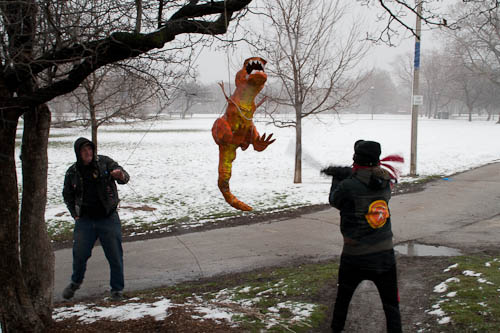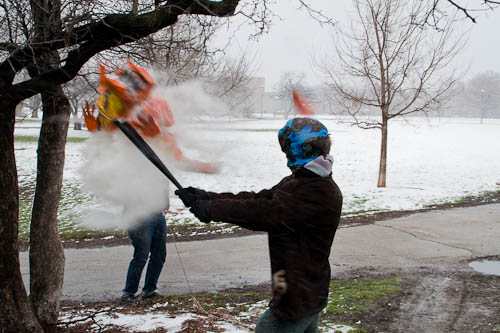 The brave ventured from the cold streets to what may be the worst alley in all of Chicago, which we nickamed 'Turd Alley' for obvious reasons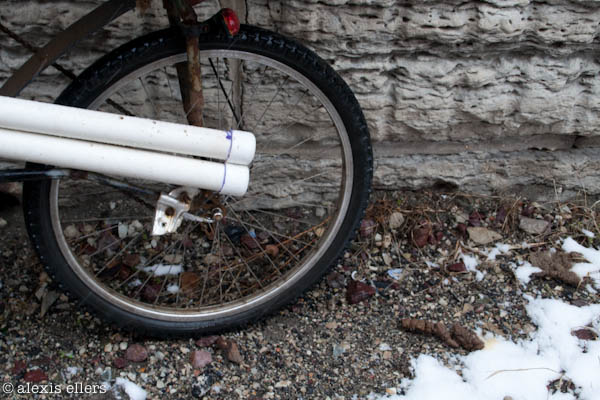 After last year's tragic loss of four of Bridgette's teeth during whiplash, full-face helmets were brought for added safety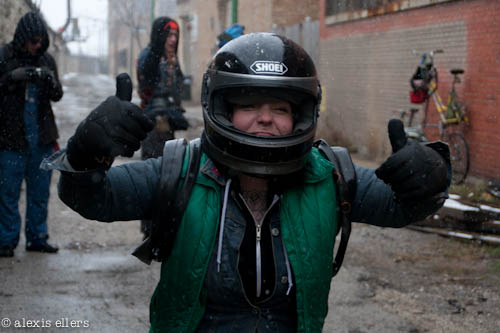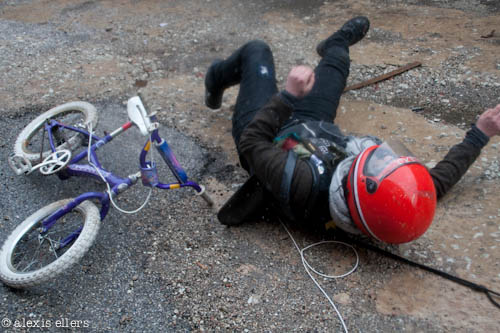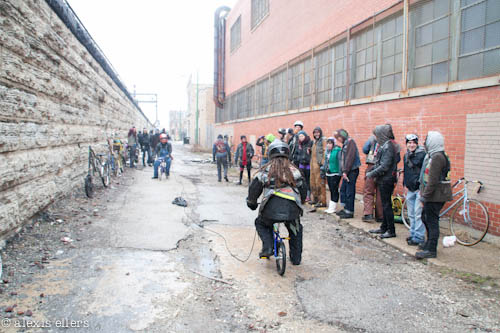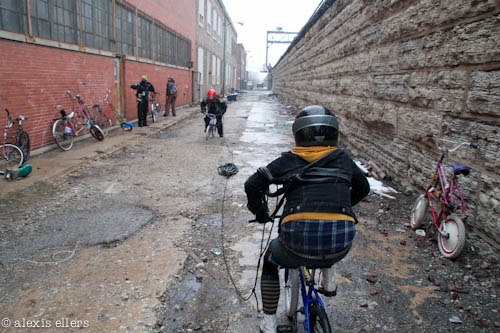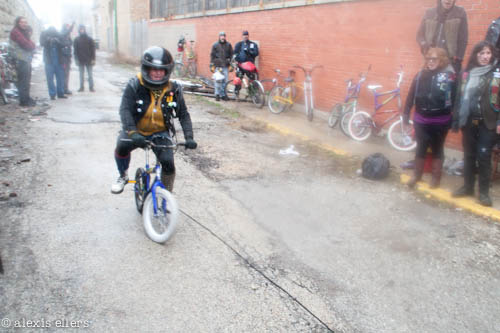 Next year we might need to invest in full body armor. Luckily, there was some cold ground beef to help with the swelling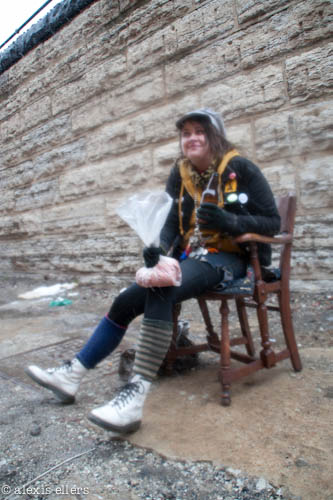 More riders were eliminated by the harsh atmospheric conditions and bike game injuries.
The remainng 14 poeple on the ride fought onwards to Lower Wacker for tall bike jousting, warmth, and cover from the elements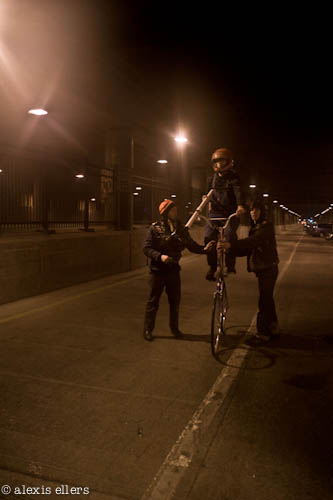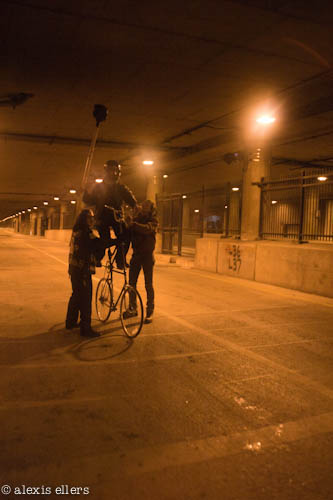 Since everything else was going swimingly, the lances broke and we continued with the stubs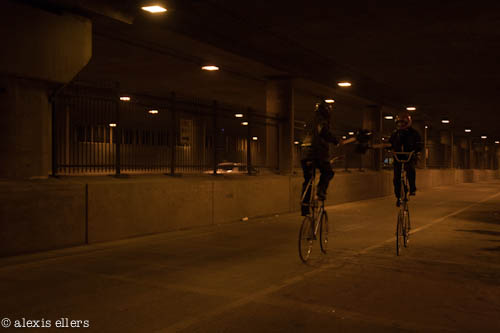 Then we slow tall bike raced and Yly's steed: 'Bikeasaurous' broke a factory weld and Tyler easily claimed victory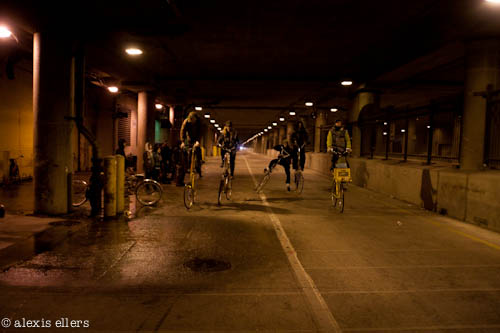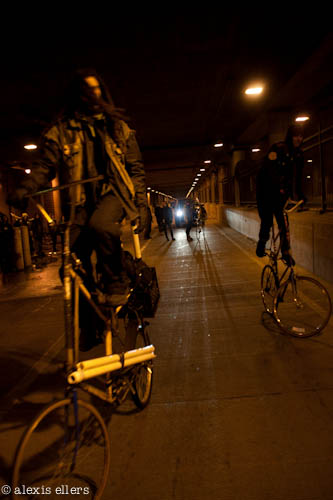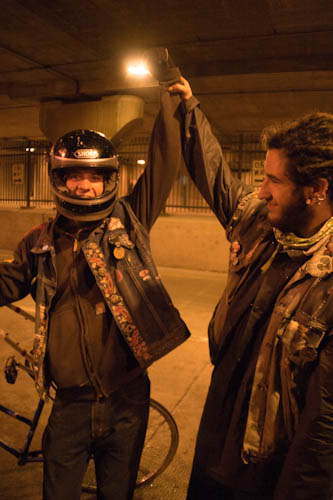 We headed over to a Chicago rat staple, Finkle & Sons, to watch metal smelting and get warm before hitting the road again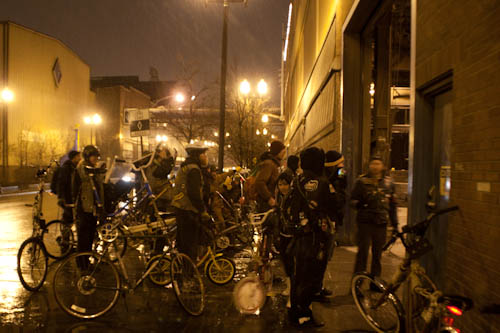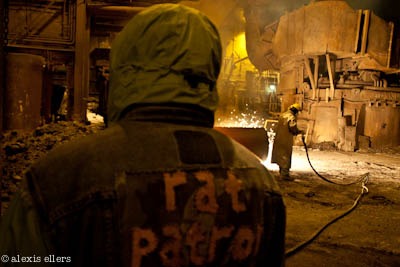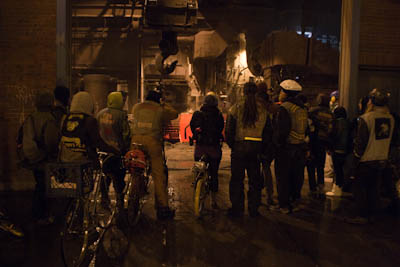 The ride ended with a clover piñata full of the St. Ratrick's Day patches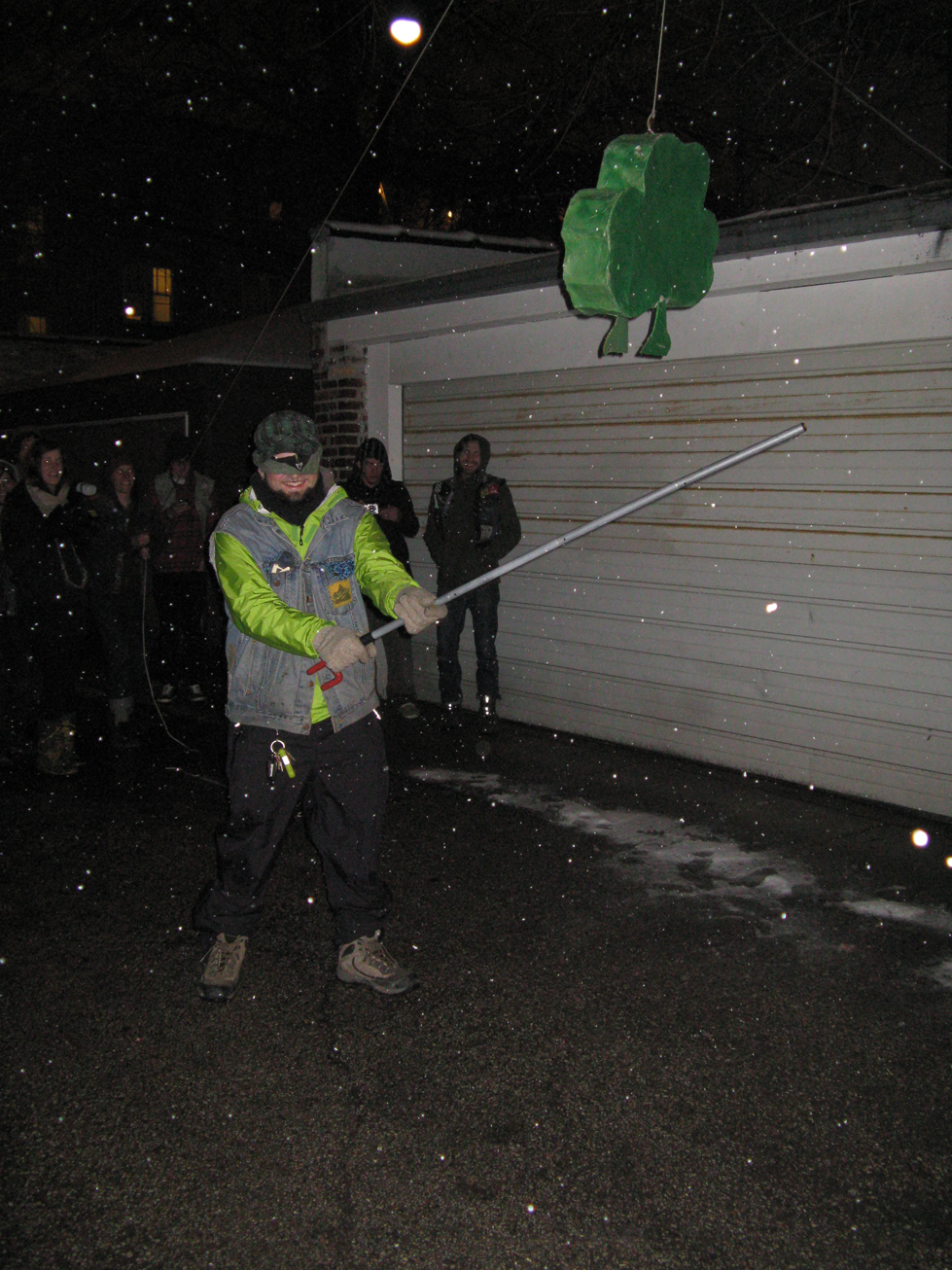 Then we took off to the after party to drink the millions of gallons of homebrew Tyler and Yly made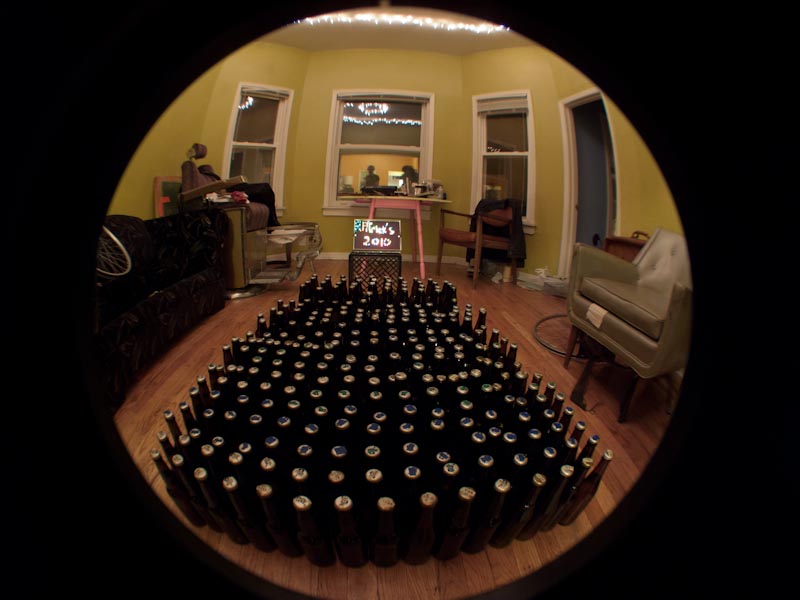 The weekend came to a close with brunch at the Hen Haus to send off all the out of towners with a full stomach