Adolph's Rat Brigade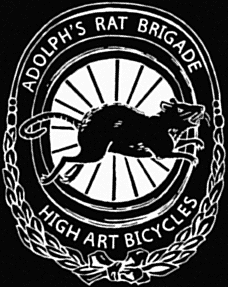 It is believed that the modern Rat Patrol Bike Club is connected to or is a direct descendant of the long-disappeared Adolph's Rat Brigade, a pioneering bicycle and social organization of the late 19th/early 20th century.
The Rat Brigade is generally thought to have been organized in the late 1880s in Chicago as a reaction to the increasing dominance of the modern-style "safety" bicycle. However, I have discovered this intriguing woodcut in a page from Frank Leslie's Illustrated Newspaper from the mid 1870s. In the middle of an article about the bicycle craze then sweeping the nation, this illustration is identified as taking place in Chicago, what appears to be a bike building party. Is this the earliest documentation of Adolph's Rat Brigade?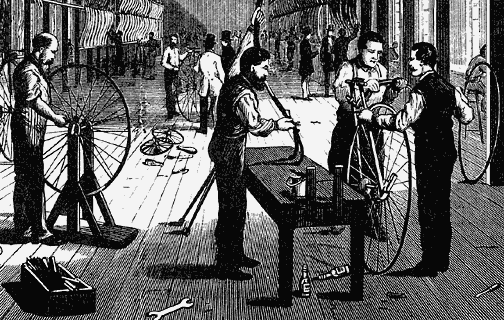 No one knows who Adolph's Rat Brigade is named after, but obviously the club started in the German-American communities of Chicago. Early activities included group rides to local beer gardens and amusement parks, scavenging the dumps at the edge of the city and an annual Rat Roast. Some of the earliest members of the club are profiled on the Speculative History page.
Adolph's Rat Brigade spent much effort to rescue the vast numbers of old bicycles discarded as the safety bicycle supplanted the penny farthing and tricycle. Later, the more enterprising club members learned to build their own creations. Lamplighter tall bikes were a common sight before the city fully electrified and were no doubt an important part of the Rat Brigade stable of vehicles. Later on, the chopper bike became quite popular, as seen in this photo from 1911.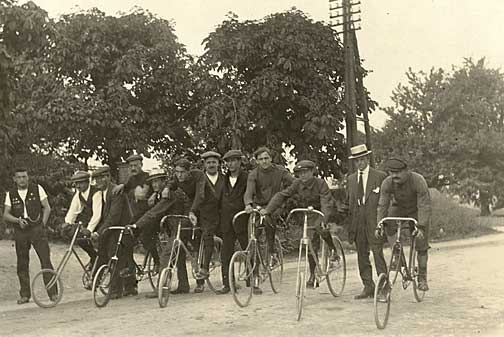 The rule of Helmut Groendenburger as Rat King in the late 1920s may have been the high point of the Rat Brigade. Despite vicious rumors of corruption by a number of disaffected former members, Adolph's Rat Brigade enjoyed a period of widespread acclaim and meritorious community activies that was remembered fondly for many years. During Prohibition years, however, Chicago's alleys were increasingly dangerous places for casual bicycle riding and several Brigade members may have been victims of gangland battles. Adding to these pressures as the 1930s wore on, the Brigade realized that they had to change their name and perhaps their identity. It was a far different world than the one which had given birth to Adolph's Rat Brigade, and many felt that the club's tenets and traditions were by then too arcane, too out-of-fashion, too obscure. It was time for a change.